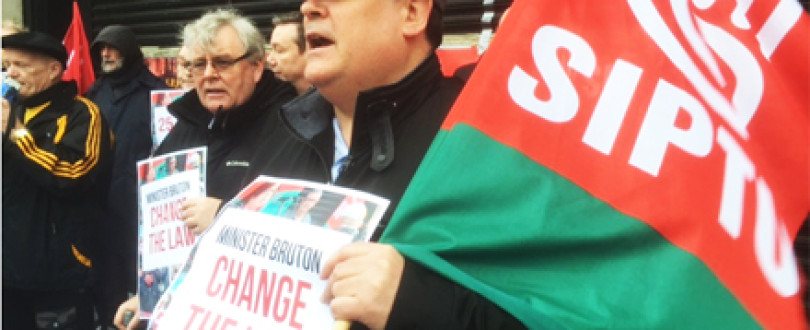 SIPTU has described as 'positive' several proposals contained in the Duffy Cahill Report, published today (Tuesday, 26th April), which are aimed at better protecting workers in circumstances similar to the controversial closure of Clerys Department Store in 2015.
SIPTU Services Division Organiser, Ethel Buckley, said: "The closure of Clerys and the appalling treatment of its loyal workforce must mark a watershed in Irish industrial relations and business practice. The positive recommendations of this report can begin the process of ensuring that no one will ever profit again by treating workers in the shameful and underhand manner which the Clerys workers had to endure.
"The measures proposed by experts Kevin Duffy and Nessa Cahill include an amendment to the Protection of Employment Act. This would make it mandatory for employers proposing collective redundancies to engage in an information and consultation process with employees' representatives for a minimum 30-day period before such a measure can be implemented, whether the employer is insolvent or not. They also propose increasing the compensation afforded to workers, who cannot avail of such a consultation period.
"Another key recommendation in the report is the introduction of a mechanism for recovering an asset, or the proceeds of its sale, in circumstances where an employer transfers it out of the business with the effect of perpetrating a fraud on the employees."  
 She added: "A new government, when it is formed, must not hesitate in enacting legislation based on this report if it wishes to be seen as an administration that is more concerned with the interests of workers than immoral speculators. Politicians from all parties condemned the treatment of the Clerys workers by Gordon Brothers and Natrium at the time of the store's closure. These same politicians must now legislate without delay to ensure such a scenario can never happen again.
"However, it must be remembered that this report and its proposals have only come about due to the relentless pressure for change resulting from the activity of the Justice for the Clerys Workers campaign. The resolve of these SIPTU members to highlight the injustice done to them and ensure it cannot be repeated will have a fitting legacy when the changes proposed in the Duffy Cahill report become effective, and laws are introduced that can provide better protection for workers."