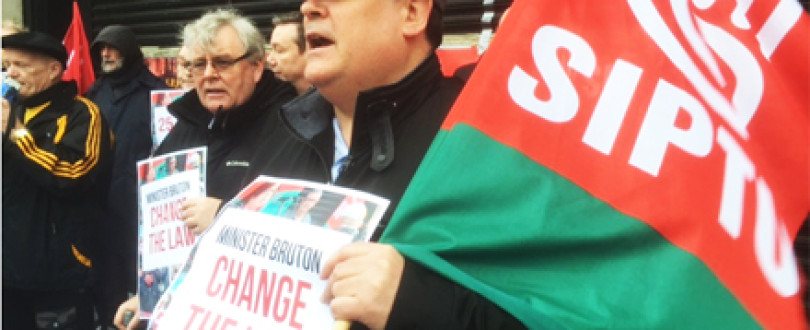 SIPTU activists and former Clerys workers have described as positive a proposed review of company and employment law announced by the Government today (Thursday, 14th January).  The review is aimed at providing the basis for legislative change to prevent a repeat of the situation surrounding the closure of Clerys department store.
SIPTU Services Division Organiser, Ethel Buckley, said:  "The announcement by the Minister for Jobs, Enterprise and Innovation, Richard Bruton, and Minister of State, Ged Nash, of this review is a positive development.
"It is clear that the Government has taken on board the representations of the former Clerys workers and their SIPTU representatives regarding the inadequacy of the current legislation. The use of limited liability or restructuring by unscrupulous companies to avoid its obligations to its employees must be ended."
She added: "The appointment of two experts in company and employment legislation to examine the legal situation surrounding the transfer of operations and assets during a restructuring process is an important step in the campaign to strengthen employee protections.  The process will also involve the review of current legislation by the Company Law Review Group.
"SIPTU expects that following this review the legislation will be amended to ensure employees can be better protected in such situations. That the current situation cannot be allowed to continue is evident from the overwhelming support provided to the Clerys workers in their campaign for justice. The behaviour of Natrium, the new owners of Clerys, which led to over 400 job losses and a cost of over €2 million in redundancy payments being forced upon the State must not be repeated."
SIPTU activist and former Clerys worker, Gerry Markey, said: "Since the closure of Clerys we have campaigned to highlight what happened to us and to ensure that the law would be changed to ensure that the same thing could not happen to another group of workers.
"I want to thank all my fellow former Clerys workers, our union, the other unions in the ICTU as well as the general public for getting us to this point. I, and my fellow former Clerys workers, eagerly await a positive outcome to the review."